TRANSFORMING HR TRAINING,
CONSULTING & COACHING
ACROSS INDIA & THE GLOBE​
Since  2009, MHRF, has  been collaborating with a wide span of Organisations to offer and deliver a full range of customized and innovative solutions, be it HR Consulting, Training or Coaching.
We provide up-to-date and creative Talent Management, Development & Retention Strategies, marked with high quality service and methodologies that inspire.
Our goal is to enable our clients thrive in a complex and changing environment. The foundation of our services is based on the 3Ps i.e People, Process & Profitability.
Driven by a strong foundation of passion, beliefs and values, the MHRF Team, has been impacting business performance through people transformation in India and around the GLOBE.
Inbound & Outbound Training
Organizational Effectiveness
Team Building
Leadership Development Programs
Women Leadership Programs
Psychometric Assessments
Coaching Certification Programs
Executive And Bussiness Coaching
Development And Assessment Centers
HR Consulting
HR Outsourcing
Modules That INSPIRE!
Pre-work wiith the stakeholders, for complete customization
Engaging, experienced corporate trainers across locations
Focus on work place application
Use of experiental learning methodologies, not just theory
Follow up and post training support available
Talk to us for your needs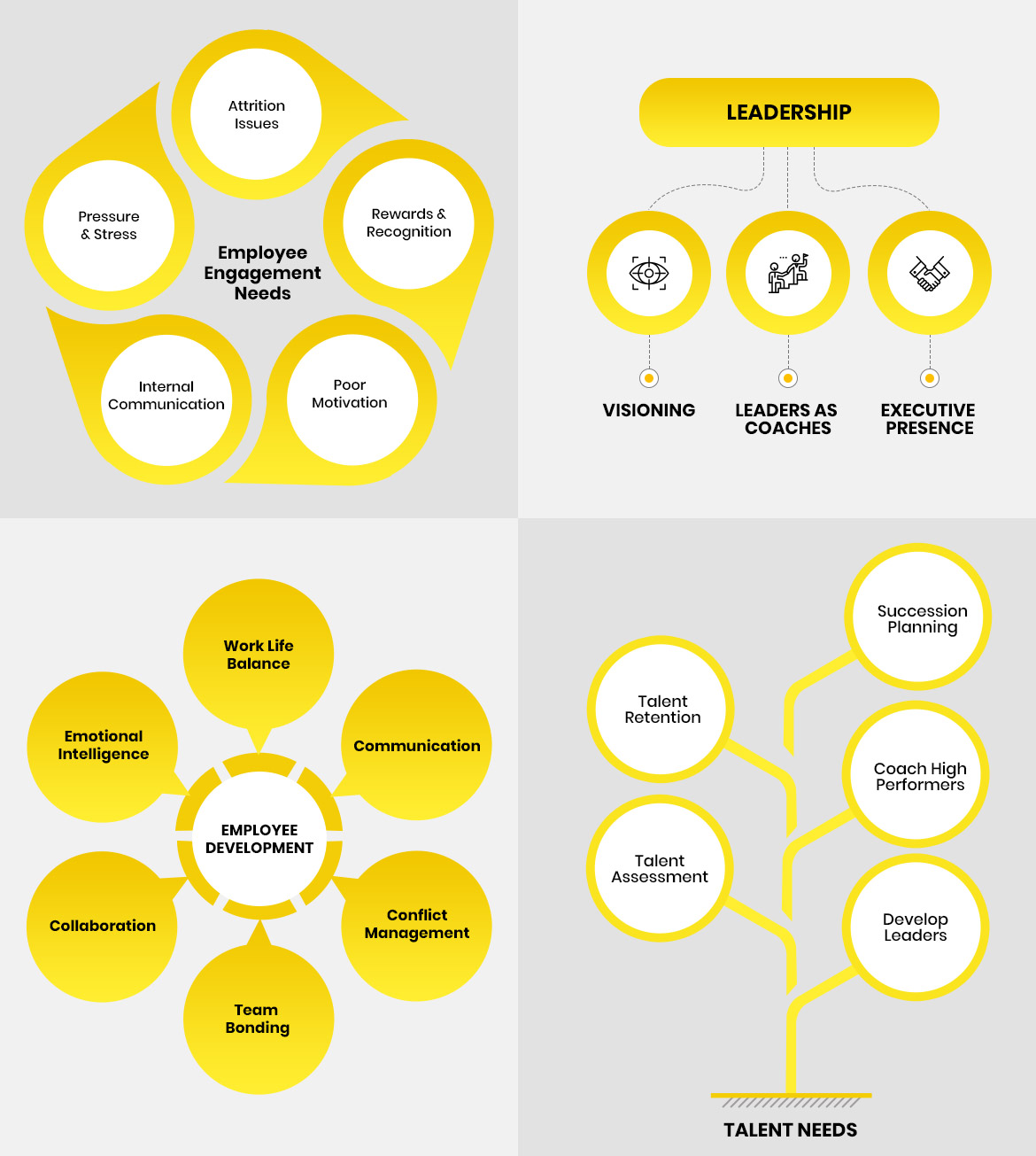 Jammu And Kashmir
Srinagar
Punjab
Chandigarh
Ludhiana
Chandigarh 

(Union Territory)
Chandigarh
Himachal Pradesh
Kullu
Shimla
Uttarakhand
Dehra Dun
Nainital
Delhi 

(National Capital Territory)
Delhi
New Delhi
Rajasthan
Abu
Jaipur
Jodhpur
Udaipur
Madhya Pradesh
Bhopal
Gwalior
Indore
Jabalpur
Uttar Pradesh
Agra
Ghaziabad
Kanpur
Lucknow
Varanasi
Gujarat
Ahmadabad
Bharuch
Bhavnagar
Bhuj
Jamnagar
Navsari
Rajkot
Surat
Daman And Diu 

(Union Territory)
Daman
Dadra And Nagar Haveli 

(Union Territory)
Silvassa
Maharashtra
Ahmadnagar
Amravati
Aurangabad
Chandrapur
Jalgaon
Kalyan
Kolhapur
Mahabaleshwar
Matheran
Mumbai
Nagpur
Nashik
Pune
Ratnagiri
Solapur
Thane
Odisha
Bhubaneshwar
Sambalpur
West Bengal
Darjeeling
Kalimpong
Kolkata
Karnataka
Bangalore
Belgavi
Mangaluru
Mysuru
Andhra Pradesh
Vijayawada
Visakhapatnam
Puducherry 

(Union Territory)
Puducherry
Kerala
Kochi
Kozhikode
Thiruvananthapuram
Wynad
Tamil Nadu
Chennai
Coimbatore
Cuddalore
Tiruchchirappalli
Andhra Pradesh

Vijayawada
Visakhapatnam

Assam

Guwahati

Bihar

Patna

Chandigarh 

(Union Territory)

Chandigarh

Chhattisgarh

Raipur

Dadra And Nagar Haveli 

(Union Territory)

Silvassa

Daman And Diu 

(Union Territory)

Daman

Delhi 

(National Capital Territory)

Delhi
New Delhi

Goa

Madgaon
Panaji

Gujarat

Ahmadabad
Bharuch
Bhavnagar
Bhuj
Jamnagar
Navsari
Rajkot
Surat

Haryana

Gurgaon

Himachal Pradesh Kullu
Shimla

Jammu And Kashmir

Srinagar

Karnataka

Bangalore
Belgavi
Mangaluru
Mysuru

Kerala

Kochi
Kozhikode
Thiruvananthapuram
Wynad

Madhya Pradesh

Bhopal
Gwalior
Indore
Jabalpur

Maharashtra

Ahmadnagar
Amravati
Aurangabad
Chandrapur
Jalgaon
Kalyan
Kolhapur
Mahabaleshwar
Matheran
Mumbai
Nagpur
Nashik
Pune
Ratnagiri
Solapur
Thane

Meghalaya

Shillong

Odisha

Bhubaneshwar
Sambalpur
Puducherry 

(Union Territory)

Puducherry

Punjab

Chandigarh
Ludhiana

Rajasthan

Abu
Jaipur
Jodhpur
Udaipur

Sikkim

Gangtok

Tamil Nadu

Chennai
Coimbatore
Cuddalore
Tiruchchirappalli

Telangana

Hyderabad

Uttar Pradesh

Agra
Ghaziabad
Kanpur
Lucknow
Varanasi

Uttarakhand

Dehra Dun
Nainital

West Bengal

Darjeeling
Kalimpong
Kolkata
Australia

Canada

China

India

Indonesia

Japan

Malaysia

Philippibnes

Singapore

South Korea

Thailand

Vietnam
Australia

Canada

China

India

Indonesia

Japan

Malaysia

Philippibnes

Singapore

South Korea

Thailand

Vietnam